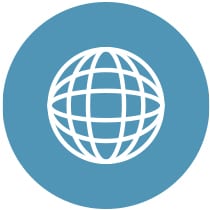 Globalization brings great development opportunities. You no longer have to limit yourself in looking for customers to the territory of the country. To get foreign markets it is not enough to just prepare language versions of the site, but also to ensure SEO. International SEO is the optimization of content on the website in terms of the main search engines of the target market. It is a complex and time-consuming undertaking, which is why Tango has prepared an offer for courageous explorators of European markets. We have knowledge backed by many years of experience, a database of trusted copywriters and extensive technical facilities.
Another challenge begins with the analysis of the new market and consumer behavior. After identifying the target group, using appropriate tools, we select keywords typical for a given country or region. We approach each language version individually. We remember that Google is not the leader everywhere (Yandex in Russia, Seznam in the Czech Republic, or Yahoo in Japan) and we choose algorithms accordingly. Positioning in Germany, France or Great Britain will be very different, because each market is different.
At a later stage, our experts will translate and modify the content using the principles of international SEO and taking into account the specificity of a given market, cultural and social determinants. Link building is another element of the strategy. We collect links from regional websites, create content marketing, optimize metadata as well as graphic elements.
The proper preparation of a comprehensive, international strategy and its continuous monitoring are the basis for the expansion into foreign markets to be successful.
The benefits of International SEO:
Traffic growth from international sources
Increase global sales
Build and increase the global popularity of the brand and its products or services
Increasing the base of international clients
Conversion optimization
Getting leads