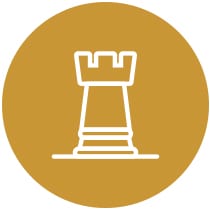 An e-marketing strategy is a well thought out action plan that sets goals and how to achieve them. This foundation of the functioning of each organization must be solidly made, which is worth entrusting to specialists who have knowledge, experience, know the network tools and current trends. The first stage of our agency's work is a thorough research. We check whether promotional actions have been carried out on the website, we analyze their quality and assumptions. Then we identify the potential, opportunities and threats. We answer the question: what to do, when, how and where to achieve the set goals.
The product of our work is a comprehensive e-marketing strategy with a detailed schedule, media plan, costs and a forecast of results. We create visual identification, choose promotional channels and set a budget. At the end, we conduct a comprehensive analysis of KPI performance indicators (Key Performance Indicators). The result of well-chosen actions is the improvement of communication, a stronger brand, a greater competitive advantage, and above all a more effective allocation of resources, a clear and coherent image of the company.
We treat each order individually, we conduct an audit of changes on an ongoing basis, and we support the process of their implementation. In the whole process of creating an e-marketing strategy, we are open to dialogue and consultations. Together, we work on your success.
Benefits of e-marketing strategy:
It sets the direction of development, promotion and e-marketing actions
It helps in identifying the target group
Creates a list of potential and current competitors
Adjusts the budget to actions